You can send wheels or tyres with with eBay Delivery quickly, easily and economically. However, you need to pack your items carefully, following the instructions outlined in this article, to make your shipments run as smoothly as possible.
Important
If your goods are transported by air services, tyres must be deflated.
Tips
You always have to pack your goods. The most common error is to send tyres unpacked and only with the label.
If your shipment includes heavy and bulky items, such as trucks and/or tractors wheels, opt for a pallet.
Packaging materials
To pack your tyres, you'll need the following materials:
Double corrugated cardboard boxes, based on both weight and dimensions of the tyre.

Plastic or wooden pallets, in case of heavy and bulky items.

Bubble wrap.

Plastic wrap / Shrink wrap.
Expanded polyethylene sheets (corners and profiles).

Mouldable foam.

Filler chips.

Packaging tape.
Packaging instructions
Once you have gathered all the materials, please follow these instructions to avoid any damages:
Wrap each item with bubble wrap (at least 5 cm of thickness), then fix the package using plastic or shrink wrap.
Make sure corners and borders are well protected, using expanded polyethylene sheets.
Place the items inside a double corrugated cardboard box, at least 5 cm away from borders to avoid damages and vibrations during transportation.
Make sure there are no gaps and that the contents cannot move after sealing the box. Use sufficient filler material and shock absorbers (formable foam, polyethylene foam, foam chips/shavings, inflatable packaging, etc.)
Close and seal the cardboard box with good quality and resilient packing tape.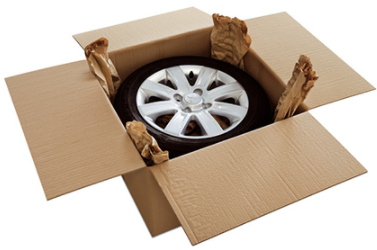 Coverage
In the event of damage, the Claims Department will only consider claims where the items have been transported with sufficient protective material. Any item that is transported without respecting our Packaging Guide will be excluded and ineligible for any compensation otherwise awarded.