eBay delivery shipments have a standard coverage of up to €25 for all delivery services, If the item you want to send has a higher value than our standard compensation and is worth less than €2.500, you can add enhanced compensation to your shipment. The shipment will be covered up to €2.500 provided that you meet the requirements mentioned below.
HOW CAN I ADD ENHANCED COMPENSATION TO MY SHIPMENT?
During the booking process you can select enhanced compensation and we will cover your shipment up to the sale value of your item, not exceeding €2.500. The value used is the sale value of your eBay item.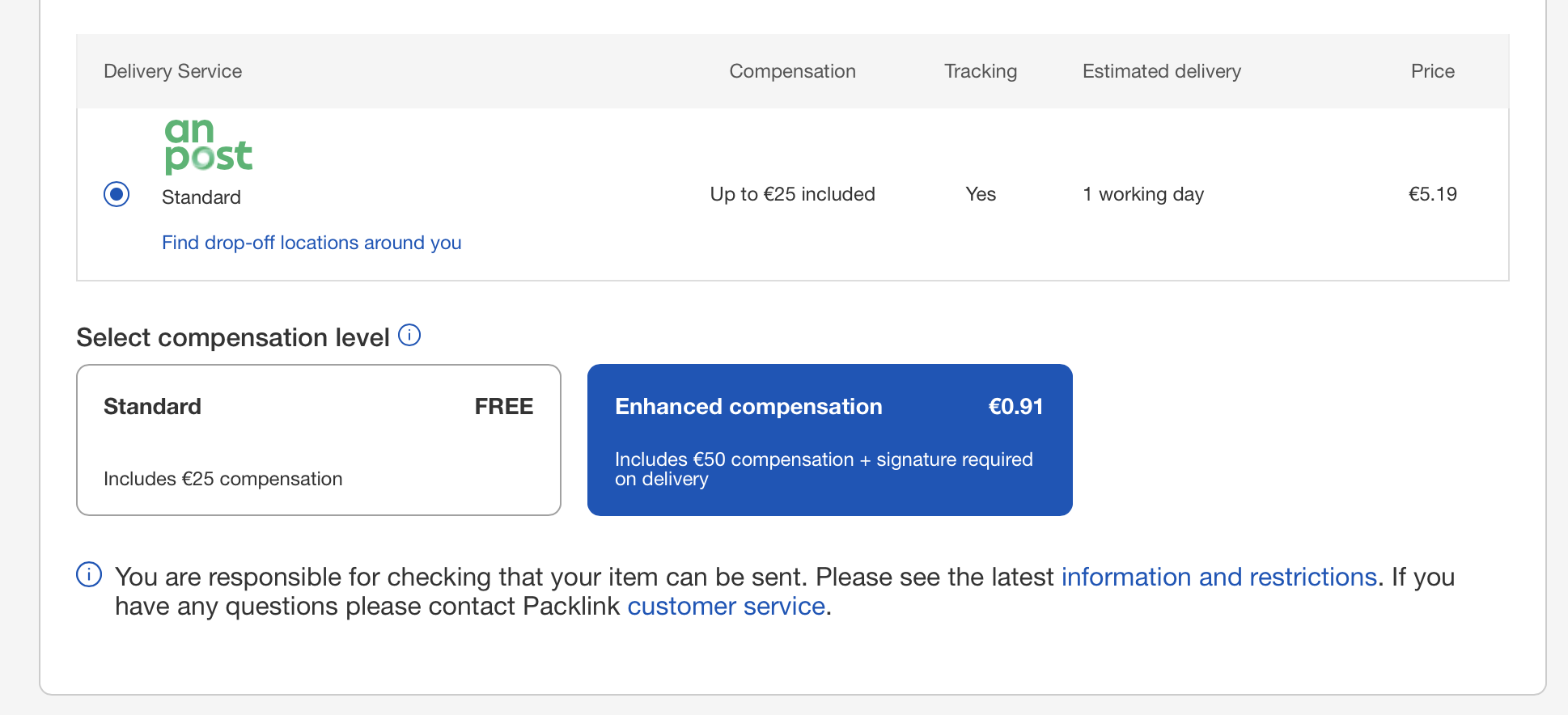 The cost of enhanced compensation is 3% of the item value. The 3% is calculated on the difference between the value of the item sold and the basic compensation (€25). For instance you book An Post parcel-shop that has standard coverage of €25, your eBay item value is €100; enhanced compensation has a cost of 3% of €75 (€100 - €25 = €75).
​​​
WHAT DOES ENHANCED COMPENSATION COVER?
Enhanced compensation covers your shipment in the following cases:
Damage
Parcel loss
For multiple parcels, if one or more is damaged or lost
A claim can be filed by accessing the online claim form provided you adhere to the following deadlines:
Damages: within 7 days of the date your Parcel was first scanned
Loss: within 30 days of the date your Parcel was first scanned
WHEN IS YOUR PARCEL NOT COVERED BY ENHANCED COMPENSATION?
You cannot claim Enhanced compensation in the following cases:
The parcel was collected late
The parcel was delivered late
Transit times are always estimated, therefore no claim can be filed if a parcel is collected or arrives late.
Please remember that you cannot file a claim if the item is included in our Prohibited and no compensation item list and if the item is not packed according to our Packaging guidelines.
Prohibited and no compensation items list.