Note:
If you just need to purchase
a single label
you can do so directly from your ebay.ie account in 5 simple steps, more information available here:
How do I purchase the postage label?
but in case you want
to print multiple labels at the same time
we suggest to use the "buy labels in bulk" functionality available in your eBay delivery account, please carry on reading this article where we explain the main features.
HOW DO I ACCESS THE BUY LABEL IN BULK FEATURES?
From your eBay Delivery account please click on the link "buy labels in bulk" on the top right of the page or just click on Delivery eBay IE.

MAKE A SHIPMENT OF AN ITEM NOT SOLD ON EBAY (NOT AVAILABLE)
At the moment it is not possible to create shipments that are unrelated to an ebay sold item. You can only purchase postage labels coming from an imported eBay sold item, in fact the create shipment from the bar on the top cannot be used.

SEND AN ITEM THAT YOU HAVE SOLD ON EBAY
To book a shipment for an item sold and paid for through eBay, you will see the latest imported sales directly on the main page of eBay delivery. We import automatically all your sold and paid items:

You will need to complete the following steps:
Click on ''Book now''
Enter the weight and size of the package to be shipped.
Click on ''Get rates''.
PARCEL SIZE/DIMENSIONS & DEFAULT ADDRESS
The postal code, city of origin and destination from your sold item will be automatically imported from eBay. However, you will have to add the weight and dimensions of your parcel: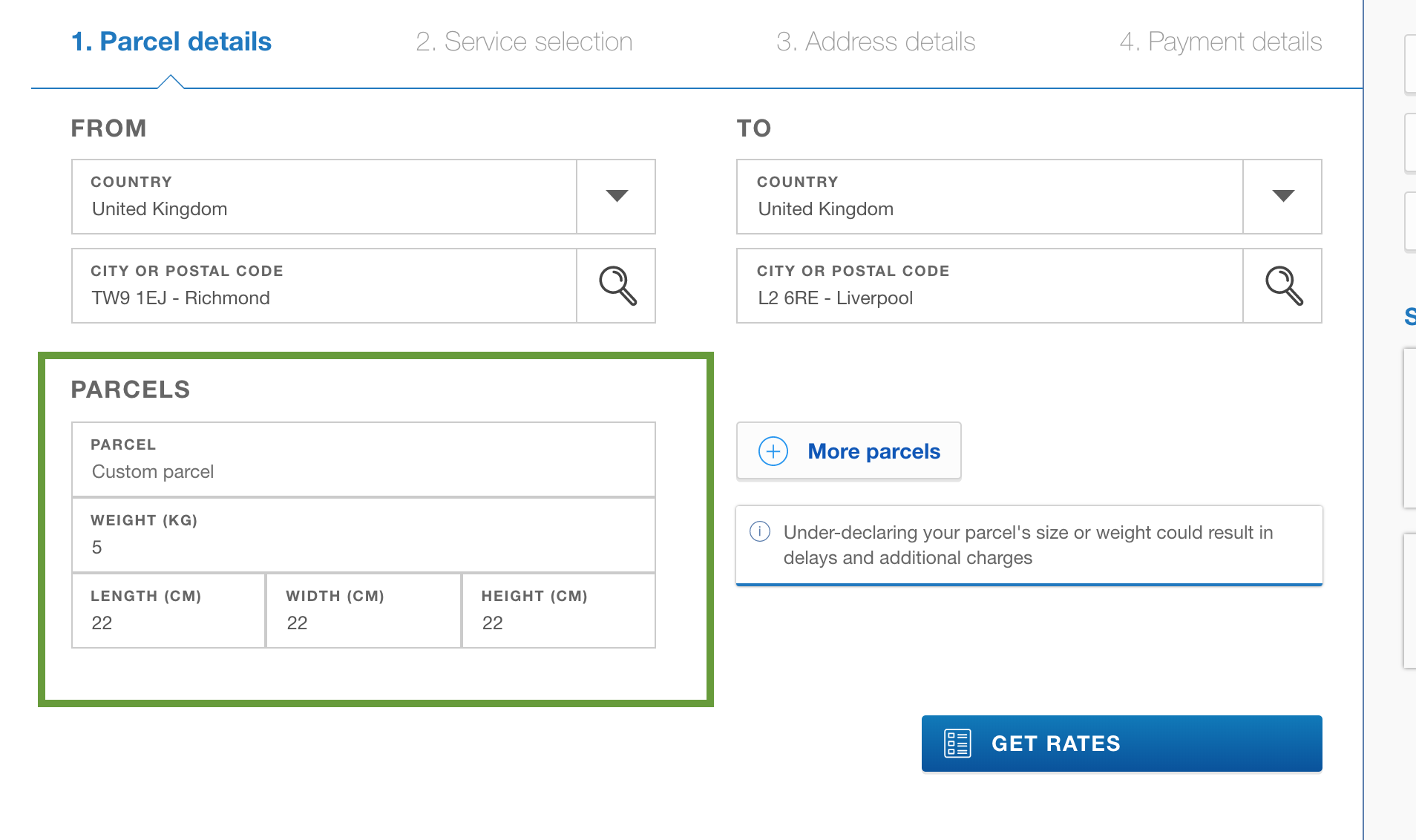 If you wish to send from an address other than the one automatically imported from eBay, simply click on ''Warehouses''. From the ''Settings'' menu you can save your main address as a default address and up to a maximum of 8 addresses.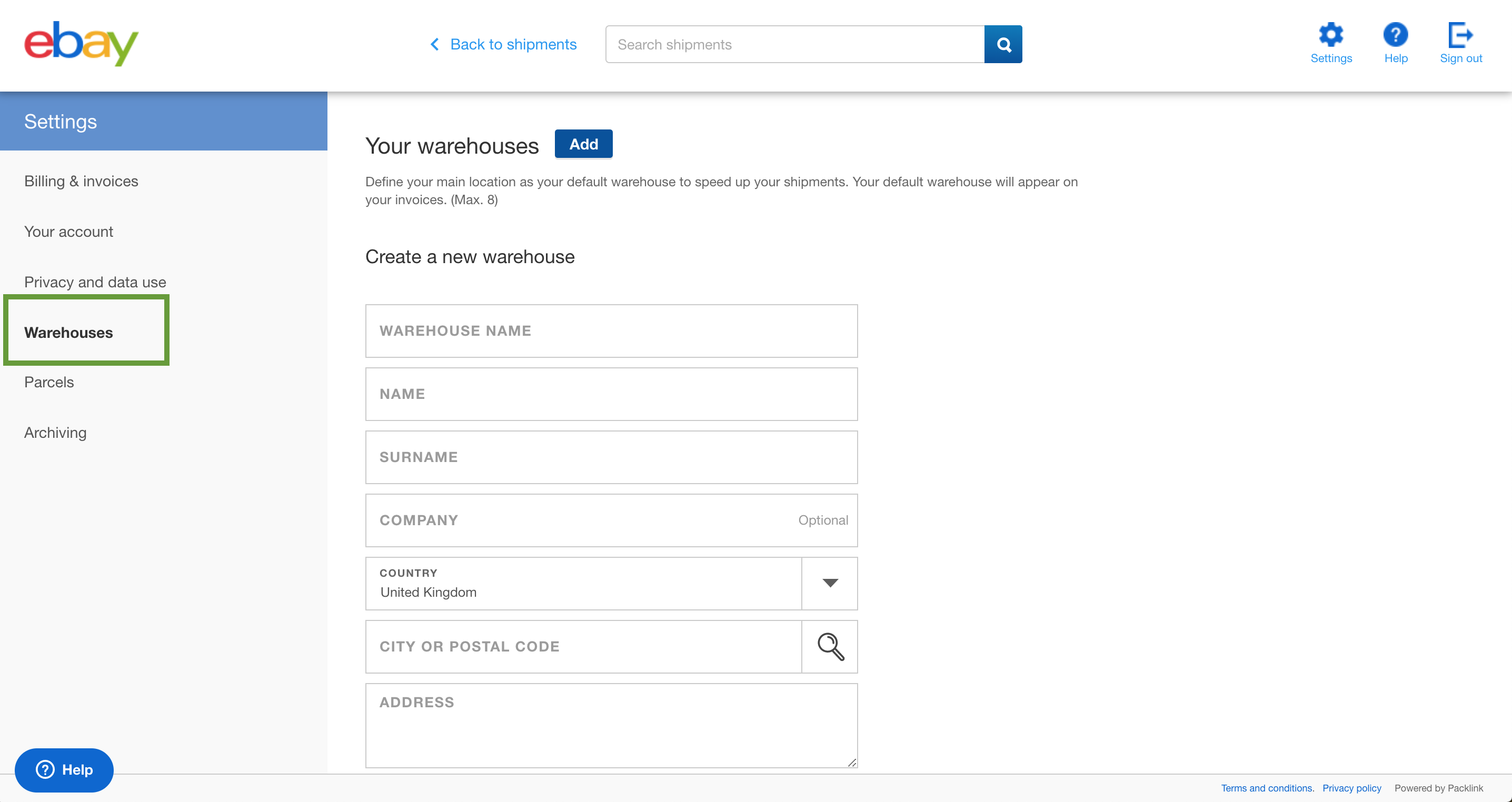 DIMENSIONS AND DEFAULT PARCEL
You can enter the weight and dimensions of the package manually, or you can use the ''default packages'' feature from the ''Settings'' menu that will allow you to define the size of up to 16 packages that you are used to using to speed up your shipments.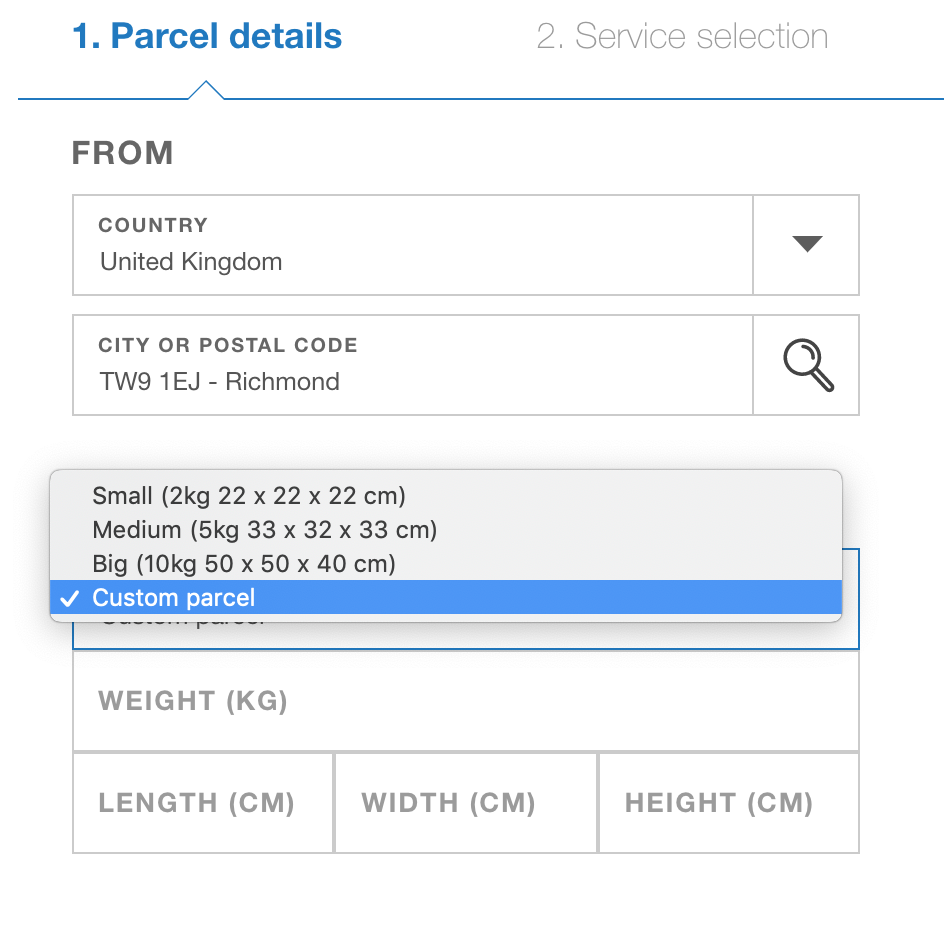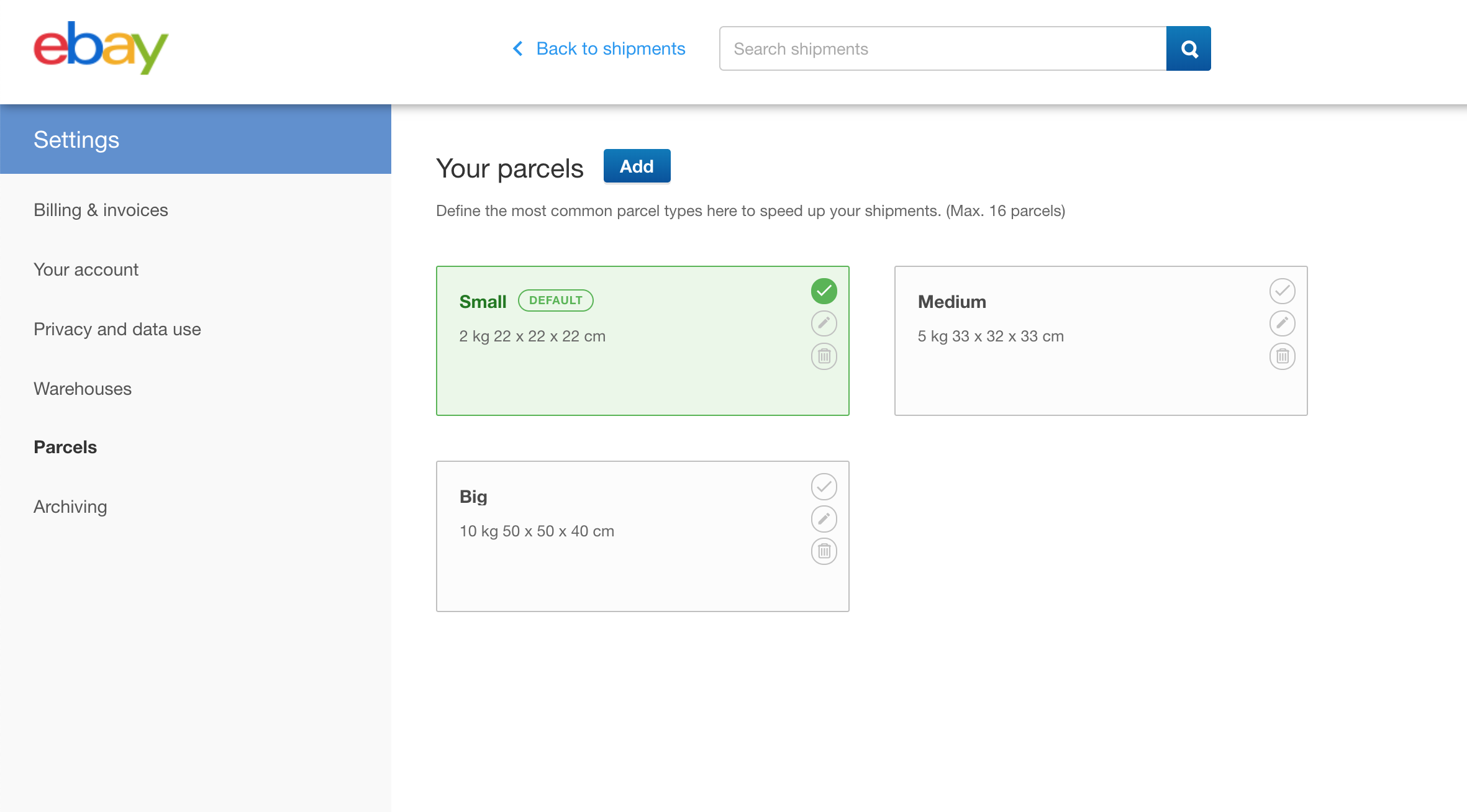 GET RATES
By clicking on ''Get Rates'' you will see the couriers available and the service selected by the buyer on eBay.
CREATE SHIPMENT
Before confirming your shipment, please double-check origin and destination data to ensure that you have entered your address, house number, postal code and destination location correctly.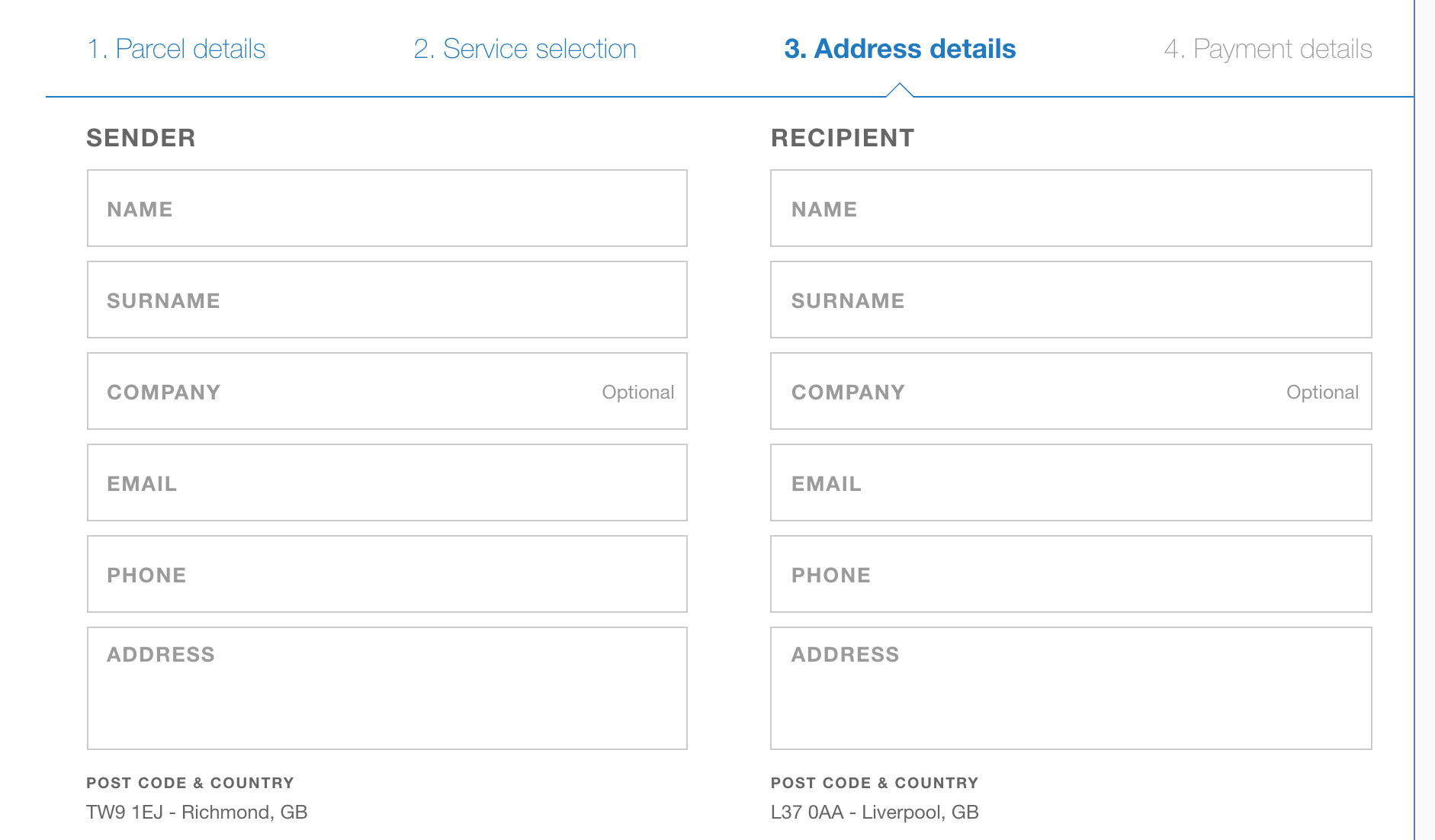 Tip: Carriers systems do not read non-standard characters (ß,ö/ä/ü,æ,ň etc) so be sure to use the respective transcriptions (ss, oe/ae/ue,ae,n etc). The data must always be entered in the purchasing process with the respective transcriptions in Latin characters.