Packlink's customer support team provides support for eBay Delivery on behalf of eBay. You can contact eBay delivery customer support by using exclusively the contact form available in this eBay delivery Help Center. Support is available from Monday to Friday from 8:00 to 20:00, and Saturday from 09.00 to 18:00, excluding bank holidays.
You can access the eBay Delivery Help Center by clicking on Customer Service link available on top right side of you eBay account.
Once you click on the Customer Support link you'll be redirected to a homepage of the Help Center.
In the Help Center you will find almost all the information you need. If you did not find the answer you were looking for, we will be happy to assist you through the contact form. Our agents will do their best to give you the support you need exclusively by email. If your request does not receive an immediate response, it is because we do not have up-to-date information on the shipment or we are awaiting confirmation from the carrier.
Please bear in mind that Packlink does not handle shipments and act as an intermediary between you and the transport company, therefore we must always contact the carrier when there is an issue with the shipment itself.
I have already submitted a support request, how can I follow my request?
You will be able to follow the status of the requests by logging in and visiting the section called "My activities". You can access by visiting this link:
https://support-ebay.packlink.com/hc/en-ie/requests

If you have already submitted a support request, each request will have its own status: OPEN, AWAITING YOUR REPLY and SOLVED.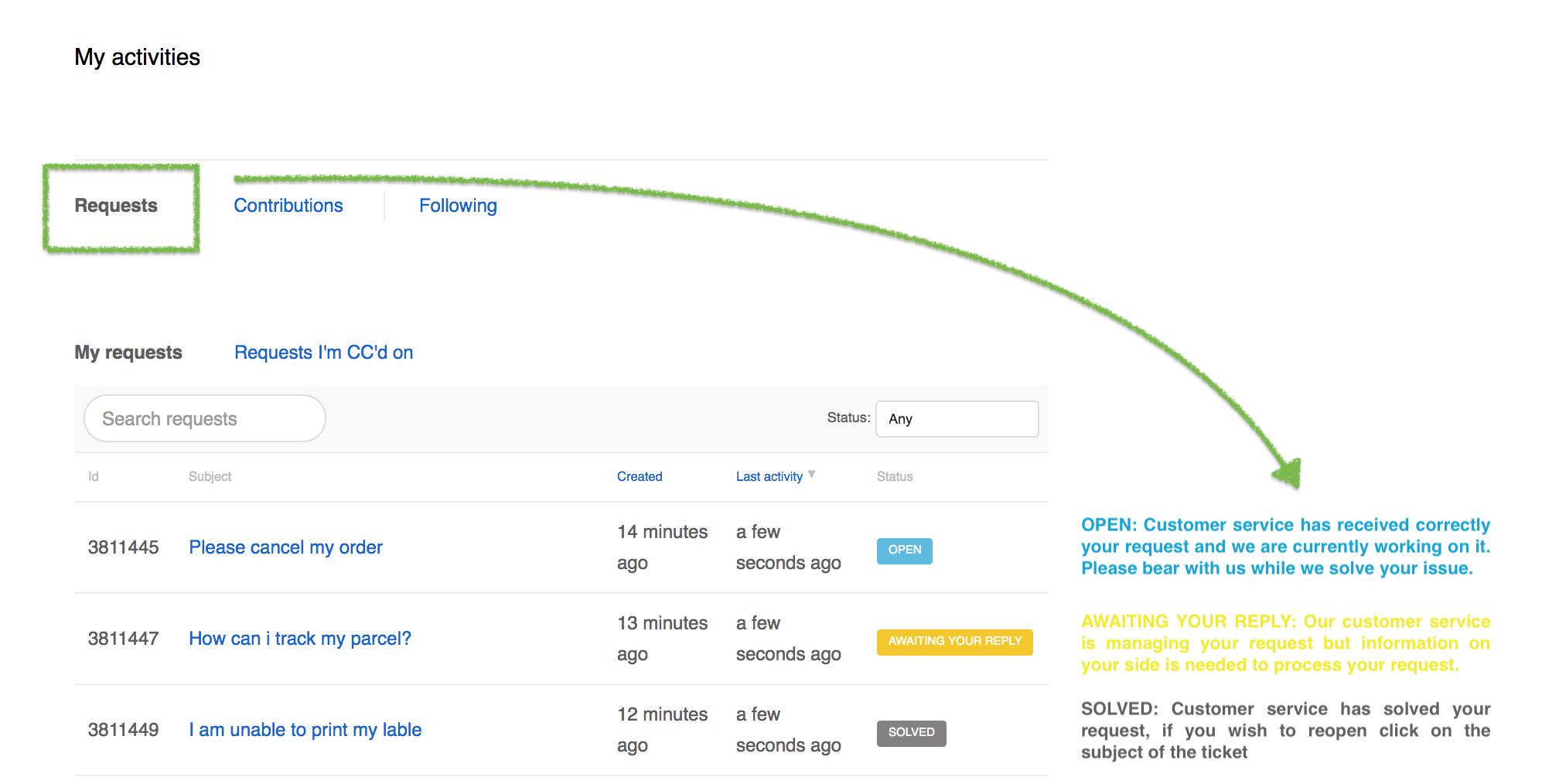 WE SUGGEST TO ALWAYS USE THE CORRECT CONTACT REASON
SO THAT YOUR REQUEST WILL BE GIVEN THE RIGHT PRIORITY
📦LABELS: Questions regarding the shipping documents or if you have not received the postage labels.
👨🏼‍✈️PICKUP: If your shipment has not been collected or you wish to reschedule a collection for a new date.
🚚 DELIVERY: If you shipment has not been delivered or you have a query regarding a delivered item.
🚀TRACKING: Tracking info from the carrier or contact us if the tracking is not up to date or not clear.
❌CANCEL THE SHIPMENT: If you have not used the postage label and want to cancel and refund.
📑BILLING: For questions regarding invoices or payments.
☂️CLAIMS: When you have to request help for a damage or loss case.
👁️‍🗨️SOMETHING ELSE: This is only for generic information when you have not yet confirmed an order or about how to use the platform.