It is not possible to amend a label's details after the payment, and you cannot purchase again a label with eBay Delivery powered by Packlink. Once you have purchased your postage label, you cannot amend the label by buying another one. If you want to make a change on the label, for example you want to change recipient or sender address details, or you want to change the weight, or your forgot to add print-in-store or even insurance, please contact our customer support which will modify the label for you.
During the booking phase you will be able to check and change the shipment data before confirmation. We suggest to always check every details before the payment is made, as once the label is generated, it no longer possible to change it or buy a new one.
⚠️HOW CAN I MODIFY SHIPMENT DETAILS BEFORE THE PAYMENT?
If you are printing a single label you can review address of origin and destination in the order details section. You can make changes by clicking on the "Edit" button, a new pop-up window will appear so that you can make the necessary changes, once done hit the button "save" .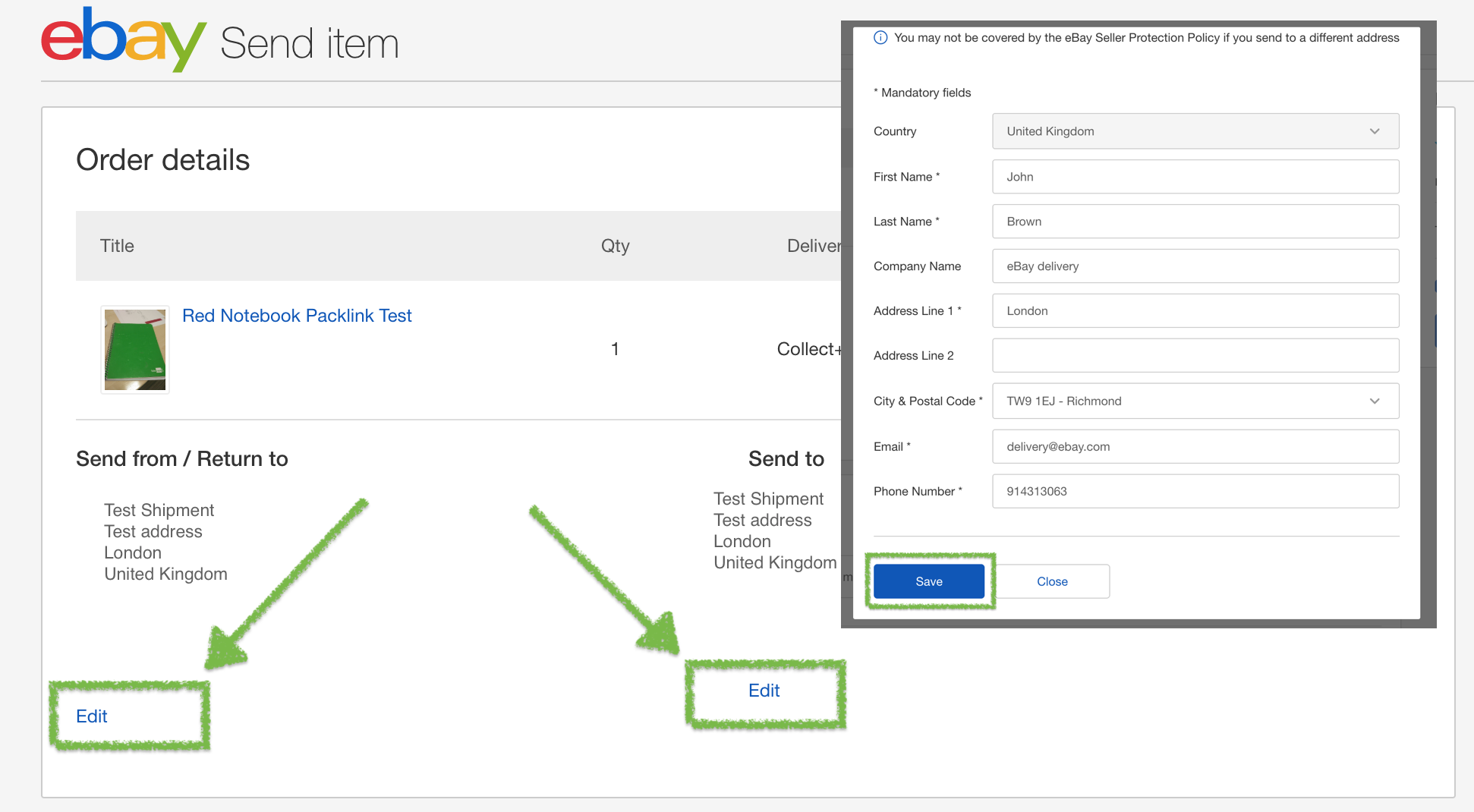 If you are printing more than 1 label - in the bulk shipping process - you can also change shipment details before paying. You can do so in step 3 of the purchase process. You can modify the shipment using the appropriate menus at the top:
1.Parcel details: change sender / destination postal code / location, weight and size
2.Service details: change the service / carrier
3.Address details: change the details of the sender / recipient, collection day, content, value, insurance coverage

⚠️EBAY ACCOUNT ADDRESS AND EBAY DELIVERY ADDRESS

Your eBay account (https://www.ebay.co.uk) and the eBay Delivery account  (https://delivery.ebay.co.uk/) are 2 different platforms connected to each other in order to provide the shipping functionality. This allows to import effortlessly in eBay Delivery your items sold on eBay. As you can see the URL to access ebay delivery and ebay are different.
eBay Delivery uses your settings in your ebay account, for example if you have already default addresses on your eBay account, these addresses will be your default addresses on eBay Delivery as well. If you have added different default address on eBay Delivery, the ebay account address will always prevail.
In such case every time you import the shipments you will have to manually change the delivery address of the shipments imported to the Manager. Check that you have correctly deleted all the addresses in your eBay account from the menu: My eBay - My Account - Addresses.

⚠️HOW CAN I CANCEL A SHIPMENT?
If after the payment you realize that there are errors on the label, please do not have your parcel collected. If you want to make a change to the label contact our customer support which can change the label for you, please remember that you won't be able to buy a new one. Please avoid making manual correction to the label, any corrections made by pen regarding address, postal code, location, will not be taken into consideration by the carrier and Packlink will not be held responsible in any way nor manage the related problem.
If you wish not to use the label anymore, please request to cancel the shipment by clicking on the "Cancel shipment" form. You will need to provide the PACKLINK REFERENCE NUMBER that that is an alphanumeric number that that begin with GB GB201900000012345, that can be found in the label confirmation page.